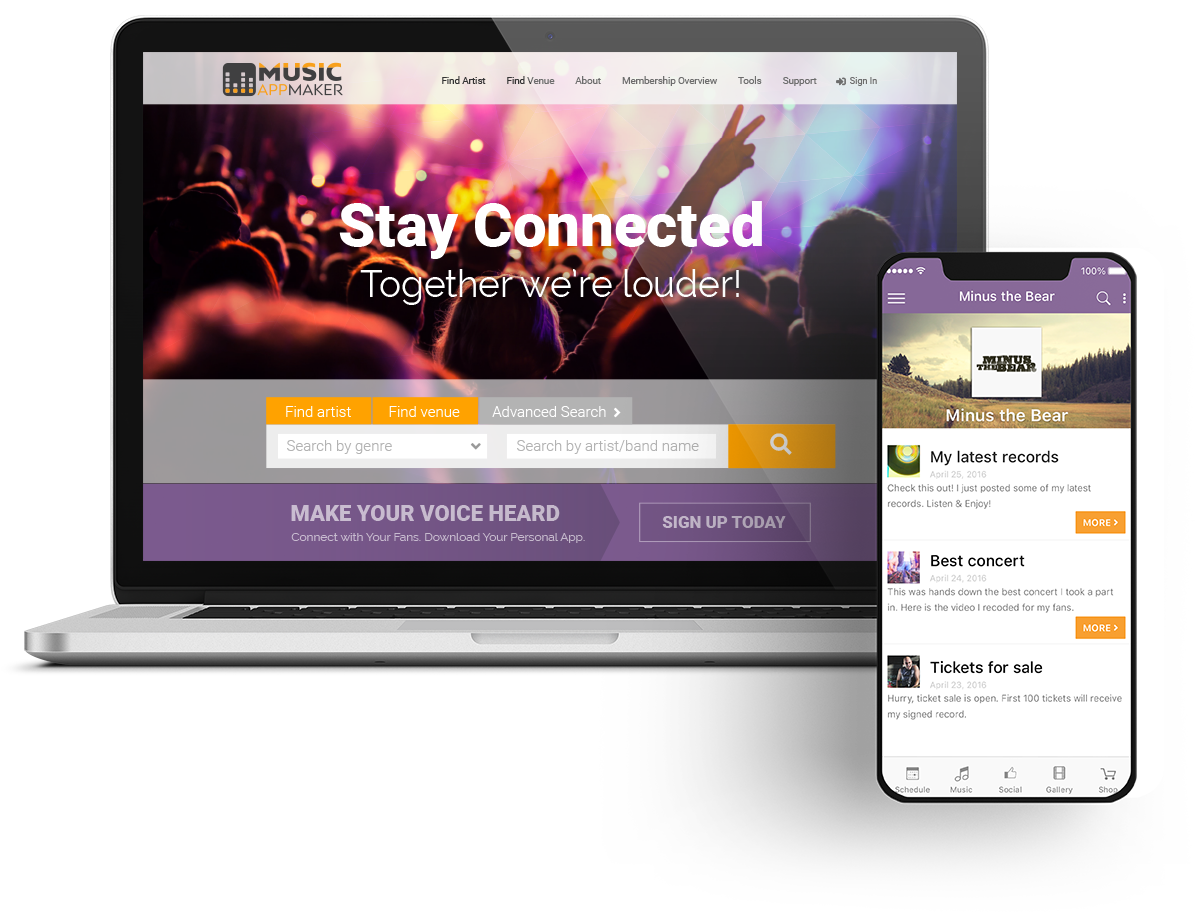 MUSIC APP MAKER
Completed in 2017
BUSINESS GOALS
Music App Maker (M'AM) came to Open Professional Group with a vision to create an online community for artists, bands, venue and their fans. For Music App Maker it was imperative to provide their artists/bands and venues with a mobile presence as well as web presence so they could gain more exposure, grow their fan base, and promote their music sales. M'AM wanted to create a multi-template based native app for individual artists/bands and venues that would allow artists to stay connected with their fans. M'AM also wanted to have one single, secure, and easy to use an administrative platform to manage both the online public portal and the mobile native app.
PLATFORM & APP GOALS
The goal of the MusicAppMaker public platform was to provide artists/bands and venues with their own public-facing web page and to serve as a search engine for music lovers to search for the artists/bands they would like to follow.
The goal of the native apps was to provide artists/bands and venues with the ability to customize their app to keep their own unique look and style. It was stipulated that customization had to include the options for artists/bands and venues to pick their template, change their color scheme and menu items and be able to upload their custom content (logo, schedule, photos, video, songs and links to their YouTube channel and online store). The app should also be configured to provide fans with push notifications for real-time event schedule and news updates.
OUR SOLUTION
A team of experienced designers, developers and analysts collaborated to custom-build a ground-breaking iOS and Android App-making platform for Musicians and Venues with vast customization capabilities.
Open Professional Group also created a secure, easy to use and navigate administrative platform for app and public portal management and fan engagement tracking.
RESULTS
OPG delivered a clean and modern looking app-making platform with advanced CMS capabilities and extensive customization options that will grow and evolve alongside the Music App Maker's musicians community.
PROJECT GOALS
Provide M'AM with two modern looking design concepts for the public and administrative platforms and several design concepts for the native iOS and Android app
Create an API that would communicate between the administrative platform, public portal, and mobile application
Build a custom CMS for the administrative platform
Build iOS and Android versions of the app
Create multiple app templates that can be customized by an individual artist/band or venue