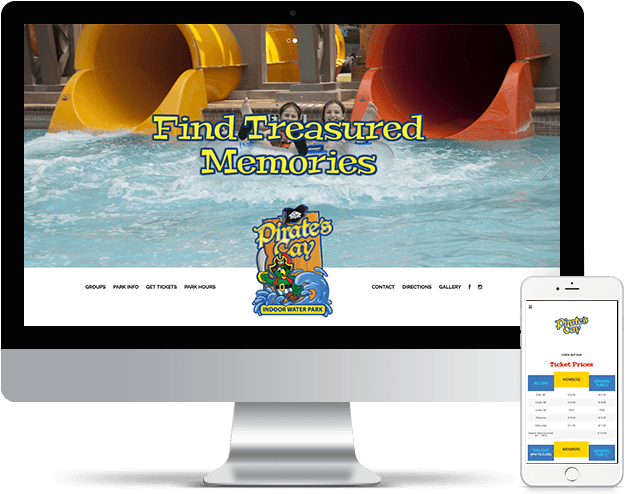 SILVERLEAF RESORTS PIRATE'S CAY WATERPARK
Completed in August 2014
BUSINESS GOALS
Silverleaf Resorts was developing a new water park at the Fox River resort in Sheridan, IL and required a new web presence for this new location. The challenge was that the water park was set to open in 30 days, and the web site project had yet to begin! Silverleaf Resorts turned to OPG to design, develop and deploy a mobile-responsive web platform, supported by content management platform, to be completely live and functional by the date of the park's opening. OPG delivered, early, and within budget, even on the aggressive timeline available.
OUR SOLUTION
Because of the tight timeline, OPG went immediately to work developing a custom look and feel for the website, but based the structure of the look on a Bootstrap template to save time on the theming process. While the structure of the site was guided by the base template, the final product was fully custom designed to meet the marketing and direction that was provided by the Silverleaf Resorts team. Once the custom design was approved, the OPG development team executed on the implementation of this design to a WordPress theme based on the high-definition design mocks. OPG worked to flow in the content provided by Silverleaf Resorts, test and prepare for go live. OPG deployed the platform to the live environment ahead of the park opening, and continues to work with Silverleaf Resorts to evolve the web platform to this day. Of course, all primary content management actions are performed without the requirement of OPG through the content management platform provided.
RESULTS
The results of this project were simple. OPG delivered a high quality web platform, fully supported by content management, on time and within budget. Even on a rush timeline, the OPG team made sure that the business goals of Silverleaf Resorts were protected.
PROJECT GOALS
Create custom responsive design web site in a very short period of time
Create and gain approval for the custom look and feel of site
Create a content management system that enabled the property to update and modify as needed
Deploy the custom UI developed as a custom WordPress theme, fully integrated to the CMS
Ensure that the site was live by the park's opening day