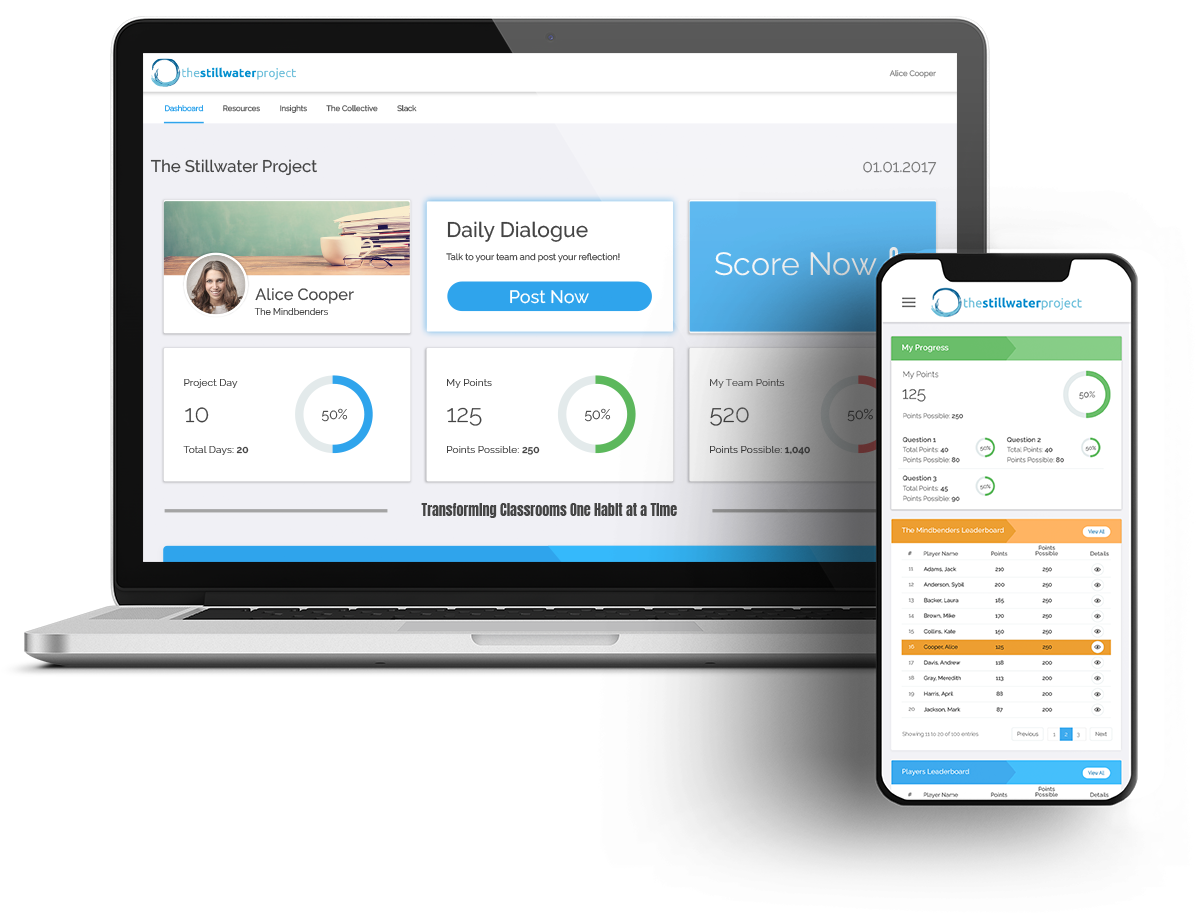 THE STILLWATER PROJECT
Completed in 2017
BUSINESS GOALS
The Stillwater Project came to Open Professional Group with a desire to develop a custom platform to manage their projects and to refresh their existing website. Stillwater needed to replace a solution they were using for their projects that combined Slack for communication and Google Sheets for scoring and reporting management as it was not ideal and had user data entry issues along with a great number of limitations with automated reporting. A website refresh was also wanted that has a "look and feel" that is consistent with the highest levels of quality, technology, and professionalism that also clearly conveys the services provided by The Stillwater Project.
PLATFORM GOALS
The goal of the platform was to create an easy to use scoring and collaboration platform that is controlled, directed, owned and branded by The Stillwater Project. This solution would also reduce or eliminate the user data entry issues while bolstering the reporting views, all while maintaining a Slack integration and a single sign on providing a "front door" for all customers to access Stillwater resources to ensure optimal brand and user experience.
WEBSITE REFRESH GOALS
The goal of the new website was to provide New Participants a way to learn about what The Stillwater Project is; to provide Potential Customers with a way to learn more about Stillwater and to take next step; to provide a way for Foundations to become a partner with Stillwater.
OUR SOLUTION
A team of experienced designers, developers and analysts collaborated and developed an exceptional solution for The Stillwater Project's platform and website refresh.
Open Professional Group created an easy to use, intuitive, and visually appealing branded platform for communicating, scoring, and reporting that allows Stillwater's clients to have a simplified and seamless experience between the platform and Slack.
The OPG team also created a new public facing custom WordPress website derived from a WordPress theme provided by Stillwater that was customized to fit the individual page needs as well as creating adjustments to be properly mobile responsive.
RESULTS
OPG delivered a scoring and collaboration platform that can evolve and grow with the company. A clean and modern looking website with carefully crafted messaging and imagery was also delivered.
PROJECT GOALS
Provide M'AM with two modern looking design concepts for the public and administrative platforms and several design concepts for the native iOS and Android app
Create an API that would communicate between the administrative platform, public portal, and mobile application
Build a custom CMS for the administrative platform
Build iOS and Android versions of the app
Create multiple app templates that can be customized by an individual artist/band or venue