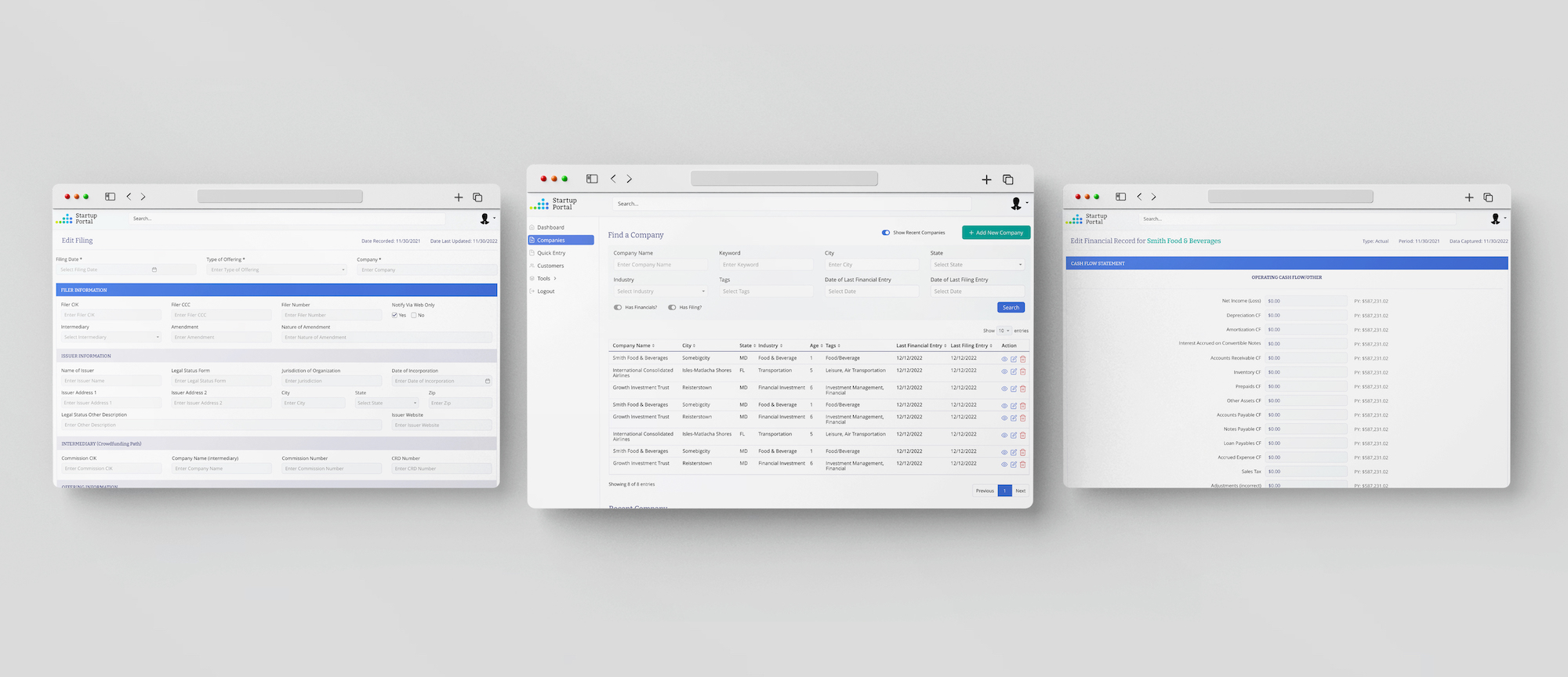 Startup Portal
Crowdfunding Financial Analytics Platform - 2023
BUSINESS GOALS
Startup Portal is a company that helps new businesses reach their financial reporting, accounting, and corporate governance needs. Startup Portal contracted OPG to design and develop a platform to support the management and analysis of crowdfunding financial and filing data of companies across many sectors. This new platform automates the previously largely manual process of monitoring and tracking of crowdfunding data across various platforms.
The ultimate business goal for the Startup Portal would be to leverage the capabilities of this new platform to deliver expert-level financial insights and maximize industry knowledge to take new businesses from plan to profit.
PROJECT GOALS
In the first phase of this multi-phase project, the following goals were established:
From the UI/UX perspective, the goal of the project was to build a lean and simple, desktop user focused interface that would allow users of the platform to quickly login, find, and manage data.
From the technical perspective, the goal of this project was to develop an MVP database to assist in the aggregation, storage, and summarization of data. This has streamlined the manual process that is required today. Allowing for increased productivity and analysis for the collected data. This platform was specifically designed to evolve with the future business needs of the Startup Portal and is built upon a sturdy base to grow.
OUR SOLUTION
In the first phase of this multi-phase project, the following goals were achieved:
OPG's design team designed a clean, no-frills interface for easy and intuitive navigation and speedy data access and entry.
OPG's talented team of developers built a multi-level user administrative portal focused on the collection of data in an efficient manner. They also added a database connectivity to Google Data Studio which Startup Portal would use for data reporting. The database was built with security measures in place to ensure that external connections only have access to necessary data. OPG's developers added built-in ODBC processing functionality in order to remove some of the manual action as well as to set the foundation for future automation.