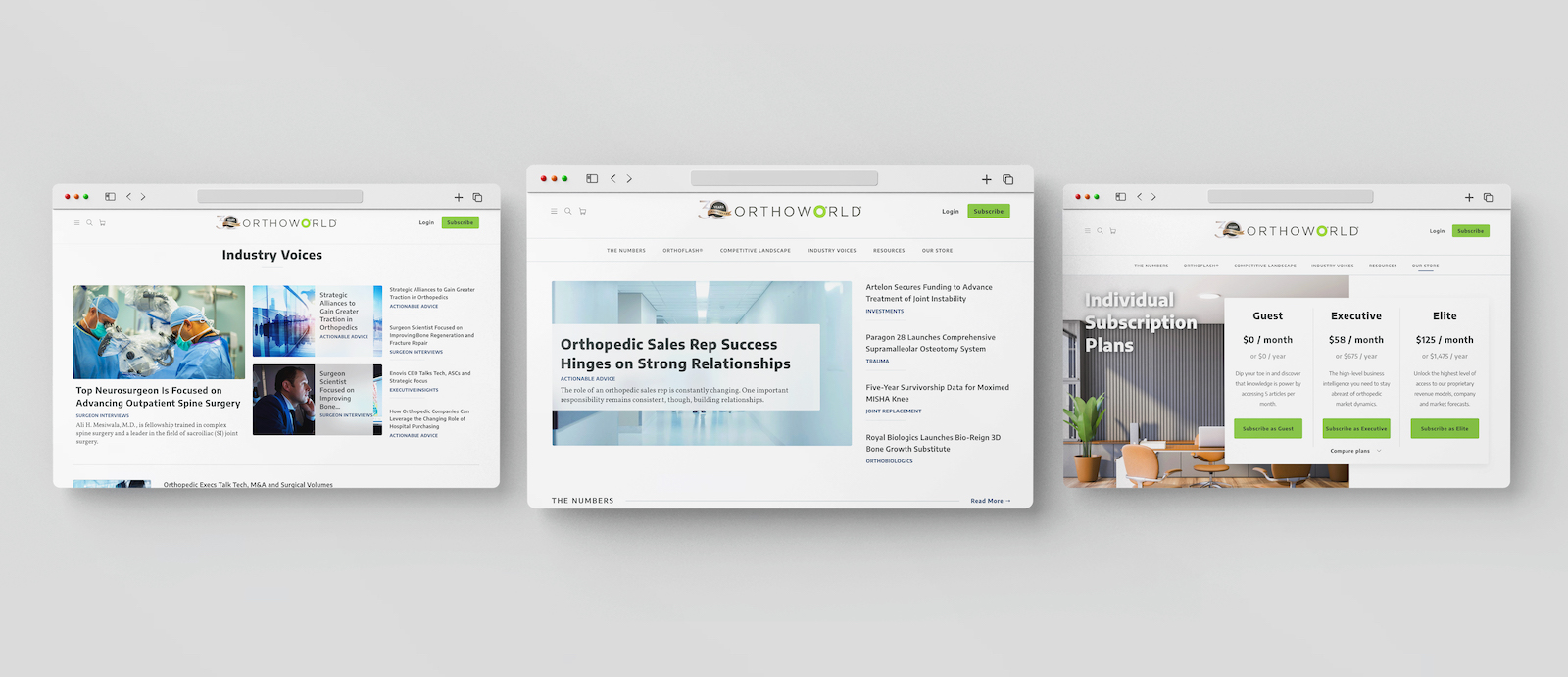 ORTHOWORLD
Enterprise WordPress Platform Refactoring - 2023
BUSINESS GOALS
ORTHOWORLD is a publishing company offering specialized educational content and advertising exclusively to orthopedic executives and their teams. ORTHOWORLD has been a long-standing client of OPG and they turned to OPG when they identified a need for the refactoring of their existing website. They wished to maintain the use of WordPress as a main framework, but modernize the website's look and expand the website's functionality including the way their customers purchase memberships and experience the content on the site. The following are some key goals that were set for the build:
Enhance the user experience and build value for their customers.
Streamline ORTHOWORLD's UI/UX and branding design across their multiple platforms by leveraging the design of their BONEZONE platform.
Create two main membership levels, individual and business, with each subdivided into membership sub-levels.
Drive revenue through the refactored platform's added value and ease of use.
PROJECT GOALS
The ORTHOWORLD marketing team set the following project goals:
Restrict public access to exclusive content to a limited number of articles per month with a goal to generate new membership subscriptions.
Enhance ORTHOWORLD content search capabilities.
Enhance the value of the OEM directory for members by adding more filters, data and functionality.
Create upsell opportunities by providing several subdivided, value-driven membership options.
Build a "My ORTHOWORLD" interactive customer portal.
OUR SOLUTION
The updated design was provided by the client. The OPG development team, as always, rose to the task and completed the project to the client's satisfaction. The OPG team performed the desired pixel perfect UI redesign in accordance with the provided Figma prototype. The OPG team also redeveloped the OEM directory by expanding the search API to allow for more filters and functionality. The content search was refined by setting several membership based permissions that would equip ORTHOWORLD with greater upsell opportunities. The e-commerce website component was built to leverage the functionality of Woocommerce, AutomateWoo, and WooTeams with multiple recurring payment options added for customer convenience. A new membership based customer/subscriber platform was built based on the ORTHOWORLD specifications. The newly developed myORTHOWORLD customer platform serves an area where the subscribers can interact with the ORTHOWORLD, have ability to update or upgrade their subscriptions, interact with their subscription content, watch videos and download articles.