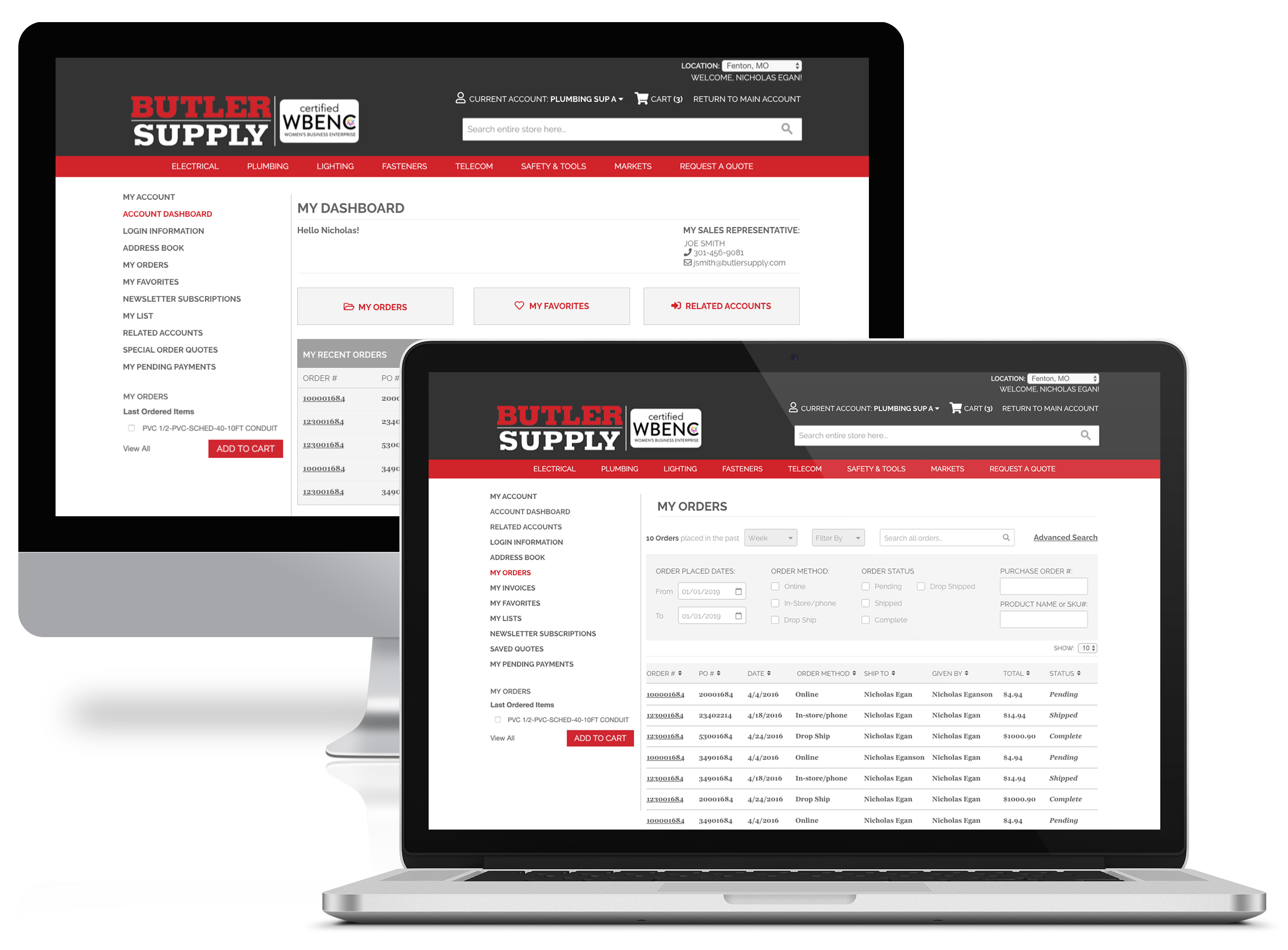 BUTLER SUPPLY
Magento E-Commerce UI Redesign & Functionality Improvements - 2020
BUSINESS GOALS
Butler Supply sought OPG's help with improving their Magento e-commerce platform performance, UI/UX experience and dramatically expanding the tools available to customers in their account portal. The needs focused on a partial upgrade of the platform while retaining in place functionality without downside impact.
STORE GOALS
The main goal for the store upgrades was to improve the overall store load-time performance, remove no longer needed extensions, and boost items in search results based on product availability at the selected warehouse locations.
CUSTOMER PORTAL GOAL
The goal of the customer portal expansion was to enhance customer experience by providing additional tools for customers to view and manage their purchases. It was necessary to perform direct integration with the back end SAP platform, with proper usage in the Magento framework. There was also a need for unifying a single customers' multiple accounts under a single login. Butler Supply also required that all customer accounts displayed all orders placed companywide regardless of the channel of their placement, as well as providing customers with options to re-order all or some of their previously purchased items. Ordering out-of-stock items was also a requirement.
OUR SOLUTION
The OPG Magento development team developed a faster loading e-commerce platform with advanced search functionality and improved customer account area with enhanced order handling and check out capabilities. OPG unified customer orders company-wide (online, in-store, and phone) by deploying a custom API integration that captures and transmits data for Butler Supply between Magento and the SAP ERP platform. The outcome was enhancing the customer experience by providing each customer with a real-time view of current order details and status. Customers were also provided the ability to take on existing orders, such as canceling or re-ordering the items from a prior order.
RESULTS
OPG successfully upgraded the performance of the e-commerce platform and enhanced the Butler Supply customer portal that will improve customer experience, retention, and acquisition. The SAP integration further enables omnichannel sales and order management, an essential feature for customers to help drive re-orders.
PROJECT GOALS
Integrate the Magento e-commerce platform into the back end SAP platform in order to provide a real-time view of current order details and perform actions on the orders, such as canceling or re-ordering the items.
Increase speed and overall performance by removing deprecated extensions, optimizing the code base, and minimizing script loads in areas where they are not required.
Enhance customer experience through a redesigned UI and additional functionality upgrades to the customer portal.
Improve the way orders are placed, managed, and displayed in the customer account area.
Boost search results for customers searching inventory based on product availability in chosen warehouse locations.
Enhance shipping radius selection during the check-out process and improve the shopping cart and check out experience.