Check out our new website!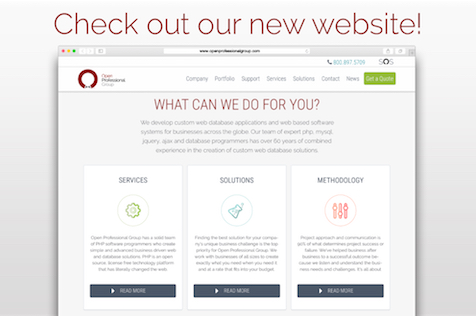 After months of hard work, we are happy to officially announce the launch of our brand new website.
The website has been completely redesigned to provide our visitors with an easier way to learn about who we are as well as what services and solutions we offer to help you reach your business goals. An entirely new architecture was deployed with fresh and modern technologies. OPG is still providing exceptionally well crafted custom web applications, mobile apps, databases, and more. We just put a new face on the 'ol girl.
We have a brand new and updated portfolio section to highlight the feature projects and provide a bit more insight into just what it took to bring that final delivery to life.
Visit us often as we will be constantly updating our content with new blog posts, company updates, and client successes.
We hope you enjoy the new fresh and modern design. For any questions, suggestions, feedback or comments, please email us. And hey, if you have been sitting on a project and would like to pick it up, talk to us! We would love to make your platform shiny and new, too!
Another way to help you understand what to expect when working with us is our OPG website which we are happy to announce is being redesigned for your benefit. So stay tuned for our new website launch.
<code>What We've Been Up To</code>
Here is just a quick taste of the many successful happenings in our web and mobile software work at OPG for the last month. We like to feature a few key successes to keep the list short, so this is just a taste of the amazing effort of the OPG team recently.
OPG assisted several clients with consulting, analysis, and solution planning. Many of our clients are starting new projects and we onboarded a few new clients with fresh and amazing ideas they want to turn into dollars! See, all these years of experience DO go to good use!
Mobile went wild this month!  April saw the most app releases we have pushed out in a single month so far, and we all know that keeping things fresh in mobile is a key to success!  
Unraveling the complexity of business processes, software, data, etc. is one of our superpowers. Our deep expertise in these areas is why we are able to help our clients achieve their goals, regardless of how complex the task is. Recently we assisted one of our clients in successfully implementing very complex mobile application functionality to drive the business operations with integrated mobile payments. And yes, for all the shiny and new front end, we made the solution play nice with an AS/400 backend. Do you see the cape and cowl of our OPG superheros?
We listened to your feedback regarding our Magento payments extension for Square called Square Payments Extension and have made some new enhancements to support latest versions of Magento and to further enhance the functionality of the extension. Check it out and share with your friends, after all, making it easier to get paid is always a helpful suggestion!
OPG was proud to be selected to complete a detailed and multifaceted consulting engagement to perform due diligence for a software platform being acquired. We gave the platform a thorough check up by diving into the software, code, and related databases to see what works, what doesn't work, and how well the software fits in with the business goals of our client. Our discovery focused on the end to end platform, from the key staff involved, stability, security, infrastructure, staffing requirements and most any other thing you can think of! The result was a concise and focused report to management that was written for the "non-geek" to help make decisions and plan for the future. OPG leveraged assets and experience across the team to hit a homerun for our client.
A couple of our clients in the Health and Service sectors deployed major mobile app updates. The service sector app upgrades were focused on making their internal and external workflow easier for their teams in the field. The health sector app has received a major grouping of new features that have rocketed the app's value to the moon by bringing in targeted, relevant and timely multi sourced data and putting it right in the hands of the person who can act on it, in near real time. Healthcare costs might just have a solution after all!